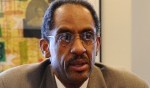 Dr. Ronald B. Mincy is the Director of the Center for Research on Fathers, Children and Family Well-Being and the Maurice V. Russell Professor of Social Policy and Social Work Practice at the Columbia University School of Social Work. He teaches graduate courses on social welfare policy, program evaluation, and microeconomics, and a doctoral seminar on causal inference. He has published widely on the effects of income security policy on child and family poverty, family formation, and child well-being; responsible fatherhood, the urban underclass, and urban poverty. Prior to joining the Columbia faculty, Mincy was Senior Program Officer in the Ford Foundation's Human development and Reproductive Health Program, where he developed the Strengthening Fragile Families Initiative (SFFI). SFFI was a Ford Foundation grantmaking initiative working with federal, state, and local human service agencies to reform income security policies to enable low-income mothers and fathers to provide emotional, financial, and development support to their children receiving welfare. As a result of SFFI, Mincy is widely regarded as a critical catalyst for changes currently underway in the treatment of low-income fathers by U.S. welfare, child support, and family support systems.
Mincy is a co-principal investigator for the Fragile Families and Child Wellbeing Study a birth cohort study of children born to unmarried parents, which is nationally representative of births in large cities. His most recent book Black Males Left Behind, examines the consequences of the 1990s economic boom for less-educated men.
Dr. Mincy is an advisory board member for the National Poverty Center; the African American Healthy Marriage Initiative; Transition to Fatherhood; the National Fatherhood Leadership Group; the Longitudinal Evaluation of the Harlem Children's Zone; The Economic Mobility Project, Pew Charitable Trusts; the Mac Arthur Network on Family and the Economy, and Governor Paterson's Task Force on Juvenile Justice
Dr. Mincy's undergraduate and graduate training in economics were at Harvard and M.I.T. He and his wife, Flona Mincy, have been married for more than thirty years and live in Harlem, New York. They have two sons.